AFP receives donation of 50 E-Trikes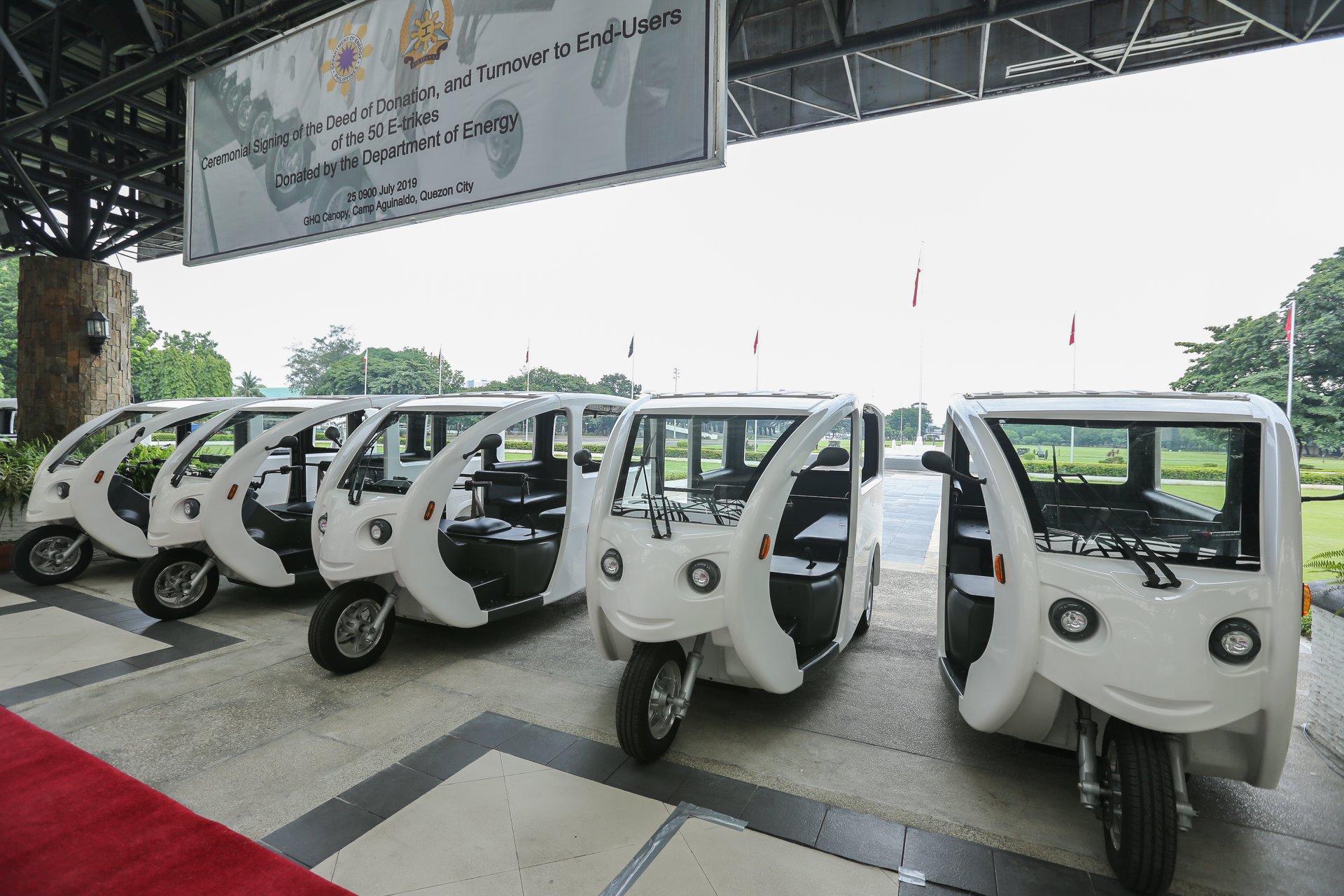 CAMP AGUINALDO, Quezon City, July 26 -- Electric tricycles will soon be seen plying the roads of military camps shuttling commuters to different destinations with the grant of E-Trikes to the Armed Forces of the Philippines (AFP) during the "Ceremonial Signing of the Deed of Donation (DOD) and Turnover to End-Users of 50 E-Trikes Donated by the Department of Energy (DOE)" on Thursday, 25 July 2019, at the GHQ Canopy, Camp General Emilio Aguinaldo, Quezon City.
The DOD was signed by AFP Chief of Staff General Benjamin Madrigal Jr., DOE Undersecretary Jesus Cristino Posadas, and AFP Assistant Deputy Chief of Staff for Logistics BGen. Fernyl Buca.
The donation of E-Trikes is part of the DOE implementation of the Market Transformation through Introduction of Energy Efficient Electric Vehicles Project or the E-Trike Project.
Implemented in partnership with the Asian Development Bank and the Clean Technology Fund, the objective of the E-Trike Project is to promote energy efficiency and clean technologies in the transport sector.
According to the DOE, the introduction of E-Trikes with lithium-ion battery technology is envisioned to pave the way for increased safety standards and improved environmental compliance.
Gen. Madrigal in his remarks, said "…it is always for the benefit of everyone that we advance efforts geared on ecological balance. That is why with today's launching, we are grateful to celebrate the greater impact that the E-Trike Project poses to our environment."
The DOE donated the 50 E-Trikes to the AFP for distribution to five military camps for the transportation of soldiers, their dependents, civilian employees, churchgoers, tourists, and guests inside these camps.
Camp Aguinaldo in Quezon City, Camp Aquino in Tarlac, Camp Nakar in Quezon Province, Fort Magsaysay in Nueva Ecija, and Sangley Point in Cavite shall have their designated number of E-Trikes, charging stations, routes, rules, and provisions regarding the use and services of the E-Trikes.
In closing, Gen. Madrigal remarked, "Serving the nation becomes a fulfilling experience when we see that we have partner agencies such as the Department of Energy, who are in solidarity with our cause for continued development. Let us show them that we are indeed deserving of such generosity." (AFP)
 Read from source : https://pia.gov.ph/news/articles/1025156.amp